"Greece and Turkey have more things in common than differences"
Turkish President Recep Tayyip Erdoğan made a landmark visit to Greece on December 7th-8th in which he was greeted by an honour guard at the airport before heading to central Athens to lay a wreath at the Tomb of the Unknown Soldier. President of the Hellenic Republic Prokopis Pavlopoulos then gave an Official State ceremony and inspection of the Hellenic Guard in front of the Presidential Palace before the Turkish Head of State paid a visit to the Prime Minister of Greece, Alexis Tsipras.
This visit by the Turkish President had been anticipated as an opportunity to improve bilateral relations in these difficult times for the stability of the greater region and also as an opportunity for Turkey for rapprochement with the EU.
Greece and Turkey have more things in common than differences, President Pavlopoulos said during an official dinner he hosted in honour of President Erdoğan and his entourage at the Presidential Mansion.
The Greek Head of State hailed the historic visit, the first of a sitting Turkish President in 65 years, saying it is up to the two countries to use it to start a new era in bilateral relations. "I welcome you today with great pleasure to hospitable Athens. This visit comes 65 years after the previous one. A visit that can, and must, acquire the historical dimensions appropriate to the future and prospect of our peoples. What unites us is more than what divides us," he said. "It is in our hands to make this visit historic and mark the beginning of a new era," he added.
President Pavlopoulos reiterated Greece's commitment to helping Turkey on its European path. "We Greeks want you to join the big EU family because that is where the future of the Turkish people lies. The European orientation fits the Turkish people," he said, adding that Greece is one of the Member-States that really believes in Turkey's European prospects.
In turn, President Erdoğan said the aim of his visit was to build a new future for bilateral relations with "unity, coexistence and solidarity." "Cultural coexistence has shown us that we can live side by side," he said, adding that if we learn from the past we will build a different future. "The two peoples have centuries of history," he continued, adding that in these difficult times for the region, cooperation is even more important.
President Erdoğan also referred to opportunities for bilateral economic cooperation in several fields, such as energy, adding that investors from Greece and Turkey may also cooperate to invest in third countries.
The Lausanne Treaty is the cornerstone of Greek-Turkish relations, Prime Minister Alexis Tsipras said during joint statements with Turkish President Recep Tayyip Erdoğan after their meeting at the Maximos Mansion in Athens.
Premier Tsipras underlined the importance of enhancing channels of communication between the two countries, noting that President Erdoğan's visit to Greece was historic, as was the initiative taken by President Pavlopoulos to extend an invitation to him.
The Greek Government was aware of the problems that divide Greece and Turkey, he added, as some undermined these relations every day. He further stressed the need to end Turkish airspace violations in the Aegean, adding that retaining Turkey's casus belli threat against Greece is inconsistent with cultivating a good climate between the two countries.
"We spoke openly with the Turkish President in our effort not to hide behind disagreements. We wanted to identify them but to discard misunderstandings and clarify what each of us means. We talked about tension in the Aegean. I have stressed that Turkish air space violations must be terminated. The increased violations of Greek airspace and especially the dogfights in the Aegean Sea are a danger to our relations and, above all, a danger to our pilots," he said.
Commenting on the issue of the Muslim minority, Premier Tsipras said the reforms needed in Greece are not issues that are debated between two countries. "We will implement our policy because we want to implement it and it concerns a domestic issue," he said. "The Muslim minority in Thrace and the Greek minority in Turkey must bring the two countries closer together. Our Government is particularly concerned for Greek Muslim citizens and is sensitive to all minorities," he said.
On Cyprus, Prime Minister Tsipras reiterated it is primarily a problem of illegal invasion and occupation. "I'm 43 years old and for 43 years the Cyprus issue remains open. Every time we discuss who's to blame. However, Mr. President, we must not forget that this issue remains open because 43 years ago there was an illegal invasion and occupation of Cyprus. This is why it remains open," he said. He reiterated Greece's position for a united, federal Cyprus, without guarantees ad foreign troops, where Greek and Turkish Cypriots will live in safety. "This solution will have to be based on the framework set out by the Secretary-General of the UN."
Premier Tsipras also urged the Turkish President to utilise the positive momentum created for the Greek economy to help open a new chapter in Greek-Turkish relations that are not based on mutual suspicion, but on mutual respect and solidarity. He also expressed the hope that Turkey will accept this proposal adding that if it doesn't, it will be to the detriment of both peoples, Greek-Turkish and EU-Turkish relations.
On his side, President Erdoğan said that he was pleased to visit the country as a Head of State and reiterated his view that the Lausanne Treaty needs "revisions". "I am happy that after 65 years, I am making an official visit as the President of the Republic of Turkey to Greece. This place is familiar to me, I visited as a Prime Minister, but it is the first time I visit as President of the Republic," he said in his opening remarks. "The steps we have made are important; we also raised issues such as the High-Level Greek-Turkish Cooperation Council which was held under my own chairmanship," he added.
"The Lausanne Treaty was signed by 11 countries. Are there only provisions for the Aegean in the Treaty? Isn't there anything about the status of the two minorities? In western Thrace we have a Muslim minority and we believe there can be new thoughts on this issue," he said. "The issues of the Aegean are tricky, but they can be resolved with talks."
President Erdoğan claimed that there is a great economic disparity between Western Thrace and the rest of the country, saying that there is "an economic gap". On the issue of the mufti in Thrace, he reiterated that he should not be a civil servant chosen by the State. "We do not have problems with freedom of religion. But there are issues in Western Thrace."
Asked about the "revisions" he suggested, he said that Turkey "does not covet the territorial integrity of any country and any neighbouring country."
On Cyprus, he said Turkey and Greece are "motherlands" and guarantor powers. "We want a fair and viable solution. This is what the Greek side wants as well, but we have last-minute issues arising which could be considered as evasions, so that we do not reach any conclusion."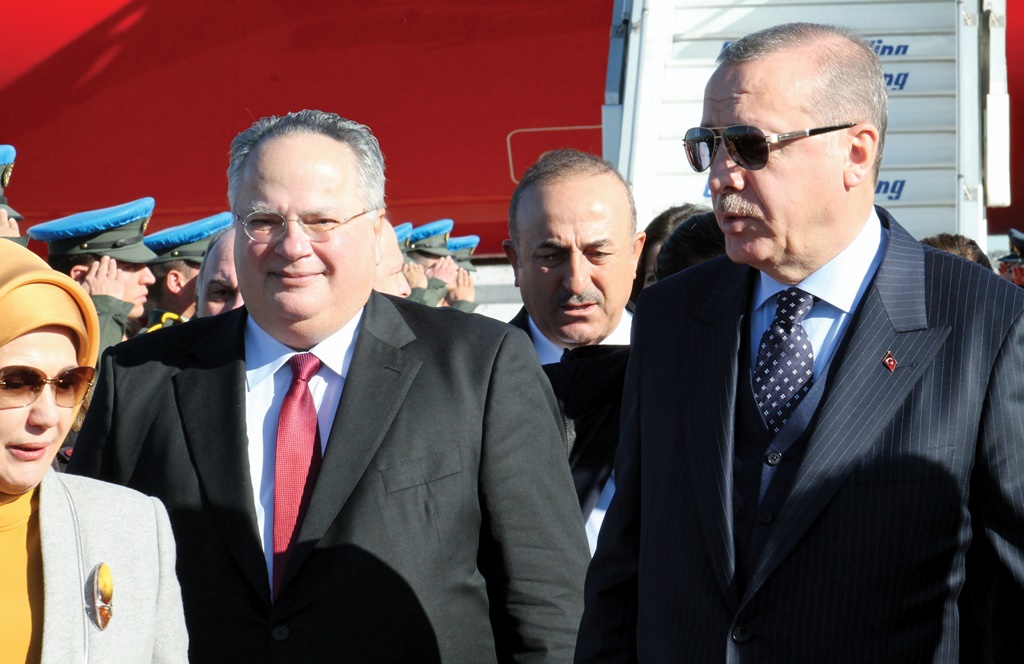 Economic relations were also on the agenda of the visit, with a focus on the energy, trade and transportation sectors. Three large projects – a border bridge, ferry connections and a high-speed train connection – are in the process of being planned.
President Erdoğan also reiterated his call for the extradition of the eight Turkish servicemen who arrived in Greece after the failed coup in Turkey. "The coup plotters can be returned to Turkey, which is a country that has abolished the death penalty, where there is no torture, and I hope Greek justice will listen to us on this issue."
Commenting on the aftermath of the visit, Foreign Minister Nikos Kotzias said "it was successful because we spoke openly and candidly, both the President of the country and the Prime Minister." The Greek Foreign Minister expressed the opinion that President Erdoğan better understood Greek positions as a result and "to a significant degree appeared to take them into account."
Commenting on the Greek opposition's unfavourable assessment of the visit, Minister Kotzias accused the opposition parties of rushing to label the visit a failure before it had even started. "In our view it succeeded. They evaluated the visit before it happened and we evaluated the actual facts," he said. It was also a success because it helped to "unfreeze" channels of communication and discussion between the two countries, Minister Kotzias noted, opening the way for meetings such as an upcoming visit to Turkey by Migration Policy Minister Yiannis Mouzalas and an inter-governmental meeting in February.
Above from left: Turkish President Recep Tayyip Erdoğan and Prime Minister Alexis Tsipras give statements to the press; President of the Republic and Mrs. Prokopis Pavlopoulos host a State Dinner in honour of President and Mrs. Erdoğan; the Turkish Head of State lays a wreath at the Tomb of the Unknown Soldier. Below: Foreign Minister Nikos Kotzias welcomes President Erdoğan at the airport; the Turkish President with main opposition New Democracy party leader, Kyriakos Mitsotakis.
(Photographs by: C.Costakis/GDL, T.Bolari, G.Kontarinis, S.Dimitropoulos, V.Koutroumanos & C.Bonis/Eurokinissi.)