"In Athens, Georgia feels closer to Europe, spiritually and culturally"
Prime Minister Giorgi Kvirikashvili, along with Cabinet Ministers, MPs and a group of students, travelled to Athens at the end of March to celebrate the launch of the visa-free travel to the European Union in a symbolic gesture to mark the country's "return to Europe".
As part of the visit to Athens, Prime Minister Kvirikashvili also met with his Greek counterpart Alexis Tsipras, in which the Greek Prime Minister referred to the historic bonds between Greece and Georgia.
The Georgian Prime Minister said that Greece is a 'cradle of culture' and expressed his gratitude for Greece's support to his country adding that his visit to Athens is of "historic value".
The opportunity given to Georgian citizens to travel without visa to the Schengen countries is a milestone for the relations of Georgia with the European Union, Prime Minister Tsipras added. He further praised Premier Kvirikasvili, noting that he was the first citizen of his country making use of his right to travel to Greece without a visa. The Greek Prime Minister underlined that it is an opportunity to further strengthen Georgia's cooperation with the European Union and Greece and it will play an important role as it will boost bilateral relations. He added that the Greek Government and the EU Commissioner Dimitris Avramopoulos contributed significantly to this initiative. Accompanying the Premier on this Working Visit was Minister of Foreign Affairs Mikhail Janelidze, State Minister of Georgia for European and Euro-Atlantic Integration Victor Dolidze, Minister of Education and Science Alexandre Jejelava, Georgian scholars, students and journalists.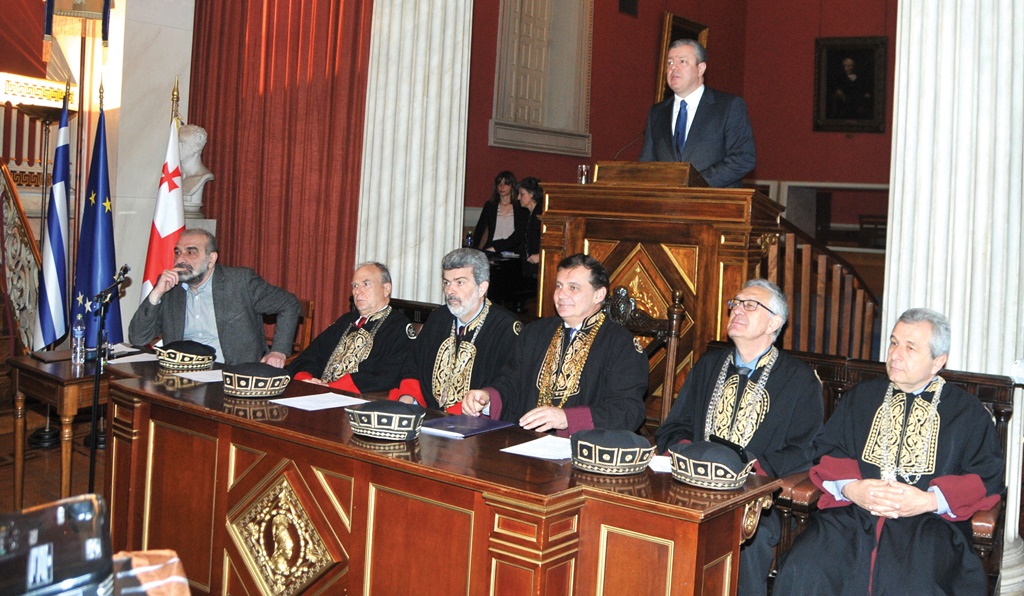 Prime Minister Kvirikashvili, speaking at the National and Kapodistrian University of Athens, which hosted the conference 'Georgia from Europe to Europe', stressed Georgia's European roots and emphasised the significance of the occasion. "Being here today is not of course coincidental," he stated. "As I made the first visa free symbolic entry in Athens, I also made a step towards Georgia's return to Europe – political, economic, social, cultural and spiritual. In Athens, Georgia feels closer to Europe, spiritually and culturally," Premier Kvirikashvili went on. "We have been part of great civilizations that have grown side by side for millennia; from the epic tales of Homer to the Byzantine Empire, our past is interwoven. We have grown together as people, cultures and nations… Athens still bears the marks of what we consider our version of the European history – Hellenic classical heritage infused with the east Roman Empire, the ancient Christian kingdoms of the Caucasus, Byzantium, national rejuvenation, cultural magnificence, political turmoil, war, devastation and the endorsement of a common vision, building a whole and free European home," he added.
"Together we are destined to create a non-hegemonic union that fits us all with the beauty of our cultural uniqueness and the wealth of goods we can create and share," the Prime Minister noted. "In this plot, Georgia has a role, a mark and a place. We share the same version of the history and Georgia seeks a place potentially, politically, economically, culturally and spiritually in this European neighbourhood, which we share and we regard as our own," he said.
Georgia's European "claim", Premier Kvirikashvili continued, "makes more sense in Athens than anywhere else in Europe, from Athens, where rationalism was born and where democracy as the freedom to live by the rules you legislate was born." "We seek a place in the European order that honours sovereignty, but is founded on freedoms, rights and solidarity. We have an appointment with history and this journey for many Georgians and for me personally restarts today from Athens," he concluded.
Pictured above: Prime Minister Alexis Tsipras gives a very warm welcome to his visiting Georgian counterpart, Prime Minister Giorgi Kvirikashvili, as the two countries mark 25 years of diplomatic relations; Premier Kvirikashvili addresses higher officials and scholars at the Georgian-Greek joint Conference/multimedia presentation 'Georgia – from Europe to Europe'; with Rector of the National and Kapodistrian University of Athens Professor Dimopoulos and Alternate Foreign Minister George Katrougalos; during his visit to Athens, Georgian Prime Minister Giorgi Kvirikashvili, together with students and scholars, enjoyed the site of the Athenian Acropolis, one of the most significant ancient monuments, and the Parthenon Temple. In 1987, the Acropolis Complex was recognised by UNESCO as a World Heritage Site.
(Photographs by C.Costakis/GDL.)
Speaking to Greek Diplomatic Life magazine on this major visit and within the framework of the 25th Anniversary of the Establishment of Diplomatic Relations between Georgia and Greece, H.E. the Ambassador of Georgia to Greece, Ioseb Nanobashvili noted that:
"Visa liberalisation for the citizens of Georgia was the remaining fourth freedom for Georgia's rapprochement with the European Single Market which guarantees free movement of goods, capital, services and people. The association agreement with the European Union opened up new opportunities for Georgian students, business representatives and tourists. Entering into force the visa-free to the Schengen zone for Georgians is a generous response of the European Union to the successful reforms which my country has been undertaking in recent years.
"The EU decision signals that Europe welcomes the efforts of the Georgian Government aimed at further modernising the Georgian economy, strengthening democratic institutions, ensuring Rule of Law, protecting fundamental freedoms and human rights. The European and Euro-Atlantic path is an irreversible choice of the Georgian People and today we are even more motivated to continue making our contribution to a more united, prosperous and secure wider Europe."
Bilateral Relations – Georgia-Greece
Greece and Georgia established Embassy-level diplomatic relations back in 1992. The Greek Embassy in Tbilisi has been in operation since July 1995; it also has a Consular Office and Commercial Section in Tbilisi. Georgia has an Embassy and a General Consulate in Athens and a General Consulate in Thessaloniki.
Political & Economic Relations
Greek presence in Georgia dates back to ancient times. Apart from the traditional ties between the two peoples, bilateral political relations between the two countries are based, on the one hand, on Greece's interest in maintaining strong ties with the strategic area of the South Caucasus and the Black Sea, and, on the other hand, Georgia's interest in developing relations with the member-states of the European Union and NATO.
The Greek Foreign Minister has described relations between the two countries as positive and productive, while an agreement was reached between the two sides that their relations are strategic. This strategic relationship means a concerted effort in developing relations between the two countries in all fields, economic, educational, energy, research, etc., but mainly it means that Greece will do whatever it takes for Georgia to come closer to the EU by sharing its experience and knowledge as an old EU member.
It is expected that the current relations between the two countries can deepen through the foundations of centuries of historical relations, as well as through 25 years of diplomatic relations.
Cultural Relations and Greek Community
There is great interest in Georgia in the Greek language, literature and culture. The Institute of Classical, Byzantine and Modern Greek Studies at the University of Tbilisi has 80 students and there are Chairs of Hellenic Studies at Akhaltsikhe and Batumi universities. 1,680 pupils at schools around Georgia are being taught Greek as a foreign language.
The Greek community of Georgia is currently estimated at 15,000 people, mostly elderly people living in the Tsalkas area. Their numbers have shrunk as a result of the large wave of repatriation to Greece following the collapse of the Soviet Union and have been fluctuating to this day. Most of the people of Greek origin who left Georgia have settled in Greece and fewer have moved to Russia to settle as former Soviet Union citizens.